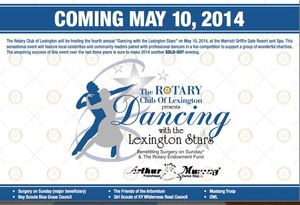 I never thought I'd say this again, but…I'd like to ask for your vote.
Don't worry: I haven't fallen off the recovering politician wagon.
Lisa and I are celebrating our 25th wedding anniversary by competing in Lexington's version of Dancing with the Stars (sponsored by our local Rotary Club).  And despite my two left liberal feet, with the awesome instruction of Arthur Murray dance teacher Rae Dunn, and the continued fitness direction of globally-recognized personal trainer Josh Bowen, we're actually getting in pretty good shape for the competition on May 10.
But I need your help.
(Sorry for that last sentence.  My fundraising letter-writing muscle is to blame)
Your vote matters. and it is easy, affordable and for a great cause.  Click here and scroll down the left side of the page to my picture, enter the number of votes you want to cast (at $5 per vote), and click the button at the bottom of the page to "pay now and vote."
Your $5 contribution will go straight to benefit an incredible local program: Surgery on Sunday, as well as to the Lexington Rotary Club Endowment Fund, which supports more than 15 local community initiatives and charitable endeavors including the Carnegie Center of Literacy and Learning, Central Kentucky Radio Eye, Saint James Place, Explorium of Lexington, The Friends of the Arboretum, God's Pantry Food Bank,  International Book Project, Ronald McDonald House, Salvation Army, Mustang Troop, OWL-Opportunity for Work and Learning, Toyota Bluegrass Miracle League, World Fit and the YMCA of Central Kentucky Back to School Rallies.
So please click here, vote for me early and often (just $5 a vote!!!), and I promise not to run any negative campaign ads against my opponents.  (Of course, if independent groups and 527s join the fray, I can't do anything about that.)